LET'S READ
When I Pray for You by Matthew Paul Turner.  Illustrated by Kimberley Barnes
    Turner, Matthew Paul. When I Pray for You. WaterBrook, 2019.
Pick up the book at your local library, independent book seller or…
LET'S THINK 
For us:
Prayer, says Scripture, arises from our hearts. That is where our need for God lives. It is in the depths of our heart that we acknowledge that we can't control everything. It is there that we first recognize our need for God and it is there that our deepest longings for the well-being of our children form. It is from our hearts that we raise those fears, hopes, and dreams to the God who gave our children life. And so we pray for them. The more we pray for them, the more grace and love surrounds them.
It is not magic, however. Our words don't make anything so. It is the sharing of love–love of God and love of our children, and trust–trust of God and trust in God's plan, that grows such blessing. This is true even when our prayers don't receive the answer we want.
Saint John Damascene said, "Prayer is the raising of one's mind and heart to God or the requesting of good things from God." Oh yes, we want to request good things from God – good things for our children, our dearest ones. Our prayers for our children are both prayers of petition and prayers of intercession. Prayers of petition ask for something and prayers of intercession ask for something for someone else. We are raising to God the needs of someone else. When it comes to our children, those prayers are accompanied by our very hearts.
There is much more to be said about prayer, and much more praying to do, but in When I Pray for You, we are reminded of how good it is to pray for our children, and to teach our children to pray for others.  We help our children recognize the needs of others and offer them to God in trust as we offer our own.
For our children:
When Jesus was on earth he prayed to God the Father all the time. He prayed when he was full of joy; he prayed when he was sad or tired; he prayed when he was hurt. He prayed before he did anything important, and he prayed before he fell asleep. Jesus also prayed for others. He even prayed for us. We pray for others too. We pray for those we love, over and over and over again. It is like sharing our love for that person with God. We also pray for those who are needy, and those who are hurting. We pray that everyone might know how much God loves them.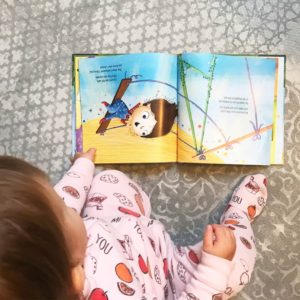 LET'S TALK
What are some of the times the mother in the book prayed for her child?

When do you think I pray for you?

How do we know prayer matters? (Jesus prayed often and Jesus prayed for others, just like we do. Also, we know God loves us, so we know God wants to "talk" to us.)

Who would you like to pray for?
LET'S DO 
Make a Prayer Chain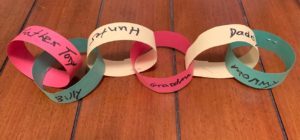 Materials Needed: construction paper, 3-10 sheets of different colors; scissors, ruler, scotch tape or a stapler; markers or crayons.
Directions:
Cut different colors of construction paper into strips, about 1 wide and 8.5 inches long. Make about 20-50 strips, depending on how long you would like to keep adding to the chain and how many people will participate.

Ask your child(ren) to think of someone they would like to pray for. He will write that person's name on the strip. After you write each name, say, "God bless ___________."

Make as many strips (with names) as you would like into a chain by connecting the strips and closing each loop with tape or a staple.

Then hang the chain in a place in your home where it will remind you to pray for each of the people you have lifted up in prayer.

Pray for the people on your chain, either individually, or as "all the people on our prayer chain." You could do this as part of grace before meals or prayer before bed.

Continue to add to your prayer chain as long as you would like.
LET'S PRAY
Dear God,
You are there
loving me,
waiting for me to talk to you.
And so I talk to you.
I tell you what I am happy about.
(Tell God something you are happy about.)
I tell you what I am worried about.
(Tell God something you are worried about.)
I tell you what I am sorry for.
(Tell God something you are sorry for. You can tell this part silently.)
I tell you what I am thankful for.
(Tell God something you are thankful for.)
I ask you to bless and help these people I love.
(Name some people you love whom you would like to pray for.)
I trust you, Lord.
I know that you love everyone.
I know you want the best for everyone.
I know you want the best for me.
Thank you for being you.
Amen.
WORD EVERY CATHOLIC SHOULD KNOW  
Intercessory prayer (or intercession): prayer for someone else. I ask for God's blessings for another person with prayers of intercession.
SCRIPTURE 
Luke 11: 9-10
LET'S REMEMBER
Pray for others this week, especially those on your prayer chain.