Let's Read  
Sometimes Rain by Meg Fleming; Illustrations by Diana Sudyka 
     Fleming, Meg, and Diana Sudyka. Sometimes Rain. Beach Lane Books, 2018. 
Get the book at your local library, independent book store, or
Sometimes Rain is a fun romp through the seasons in catchy rhyme and beautiful art.
It's a perfect way to celebrate Spring – even if it is a bit muddy outside.  
Let's Think  
For us:  
We often hear that science and religion are opposed to each other, that if you believe the truths of science, you can't believe the truths of faith. That's not the Catholic view. We find truth in both science AND faith. Science and faith could never be opposites!  Who made all those scientific truths true? God did! The natural world is filled with the presence of God. God is there breathing in every bunny and communicating through the touch of the wind. In a very special way, God is present in each of us who are made in his image and likeness. A celebration of the seasons, as in this beautiful picture book, is a perfect opportunity to appreciate the gifts of nature, and God's presence in all of it. As the seasons change and the new life of spring blooms, we renew our awareness of the love of God showing all around us, in every leaf, flower, and raindrop.  
For our children: 
Nature is always changing. It was winter and now it is spring. Even though the seasons change, God's love never goes away. This beautiful natural world is a gift from God. We can learn something about God in each piece of nature. When we look at a beautiful flower, we can see that God loves colors and variety! When it rains, the plants and creatures of the earth get the water they need to grow. We learn that God cares for all creation. In spring, we learn that new life is a gift of God's love. Even in the cold and dark of winter we learn that all of creation needs rest – just like we do! 
Let's Talk  

It was winter. What has gone away now that winter is over?

What signs of new life can we see now that it is spring?

Choose one of those spring gifts. What does it teach us about God?

How do the seasons show us that God's love never ends?
Let's Do   
Have a spring treasure hunt.
– Take a walk and find these items: a flowering bush, mud, a new green leaf, a robin, a bud, the sound of bird song, a brightly colored flower. What other signs of the season can you find?
– Choose one of the items and ask, "What does this show us about God?"
– Bring some signs of spring into your home.
OR –
Take photos of each item on your treasure hunt list. When you get home, print them out and staple them between two pieces of construction paper. You have a spring scrapbook! How about "Creation is Springing to Life" as a title?
Let's Pray   
Dear God,
The world celebrates your love for everything living.
The plants are alive; the animals are alive!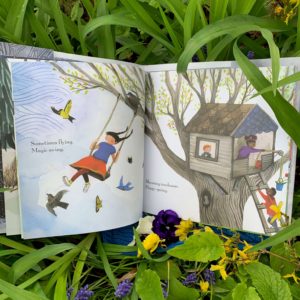 I am alive!Your creation is a beautiful gift at all times of the year.
The seasons change from spring
to summerto fall
to winter
and back to spring again.
But one thing never changes: your love for me!Thank you God, for all of nature.
Thank you God, for loving me.
Amen.
Word Every Catholic Should Know   
creation – all things that were made by God. We often use the word to talk about nature. All of creation shows us what God is like.
Scripture
Psalm 148:1-14 A song of praise to God for all of creation.
Let's Remember 
Through creation, we learn something about the Creator. This week, look for signs of God's love in nature.