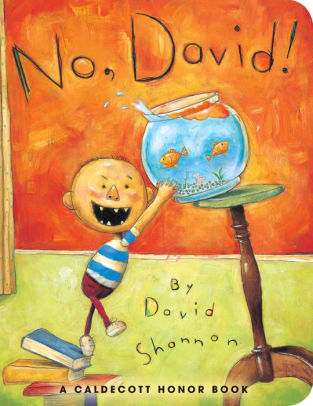 Let's Read: No, David
    Shannon, David. No, David! Blue Sky Press, 2018.
Find at your local library, buy from an independent bookstore, or…
How does a 5 year old boy experience the no's that must certainly come his way? We find out in the delightful picture book, No, David. More importantly, we visualize the unconditional love of a parent for a child. This "no matter what" love is a model for the eternal, all-forgiving love of God.
Let's Think:
How can a child understand God's mercy if he cannot understand what it means to fail? And how can a child understand why he needs to be forgiven if he cannot understand that he sins?
He does sin. I sin. You do too. We all choose wrong 
acts. We choose wrong words. We even choose wrong thoughts. That's why we need a Savior. Jesus paid the price for our sins, so that we can be friends with God even though we sin. He died and then rose, giving us the gift of life forever. This is God's biggest "I Love You" hug.
This Sunday (4/28/19) is Divine Mercy Sunday, a day to remember that Jesus always wants to forgive us. Jesus' love is always waiting for us. Jesus' heart is filled with mercy. Jesus appeared to Saint Faustina many, many years ago to share that very message.
That brings us to No, David.
David does what all children do. Actually David does what all people do. And his mother has to say, "No." His mother has to say, "Stop." And so does God. Because we are SO much like David. However, not everything David does is a sin. We sin when we
 freely choose to do something that we know is wrong.
But after a book full of no's comes the best part. We are loved. No matter what we've done or failed to do, we are loved. And if we are sorry, we are forgiven.
David's mom loves him no matter what. Our God loves us no matter what. Sin puts distance between us and God. Jesus' life and death built the bridge we need.
We are loved. We are forgiven. And our lives can end with the biggest hug of all, God's welcome into heaven.
That's what the Resurrection of Jesus accomplishes. It's the day that changes everything. Because of that day, your life, my life, and the lives of your children can be gathered up into the loving arms of God. This Sunday we remember the all-loving, all-forgiving heart of Jesus: Divine Mercy, indeed.
Let's Talk: 
How do you feel when you choose to do something wrong?

When you do something that is wrong, how can you make it right? (You can admit your sin and say you are sorry. You can confess your sin in the sacrament of Reconciliation. You can try not to commit that sin again. You can do something to erase the effects of your sin.)

Why does Jesus forgive us when we are sorry?

How do you forgive others?

How do you show others your love?
Let's Do:  Make a huggable heart.

Materials (for each heart): Four pieces of construction paper, colors of your choice; glue or glue stick; markers, and crayons.
Instructions:
Cut a large heart out of one piece of construction paper (as large as you can according to the size of the paper).

Cut two arms out of the white construction paper. Make them about 1.5 inches wide and 9 inches long.

Accordion fold each arm.

Trace your child's hand and cut out two of them. (You can trace both hands or you can trace it once and cut two.)

Glue the arms on the side of the heart and glue the hands on the end of the arms.

With marker, write "I Forgive You" on the heart. (The sample shows the words printed out and glued on, which is another option.)

If you'd like, decorate the heart.

Make the point – God is always waiting to welcome us back with a hug. We are eternally loved by God!
Let's Pray:
Dear God,
Only you know the truth inside my heart.
Sometimes I do good things. Sometimes I sin.
I am so sorry for the times I have not made good choices.
I am sorry for the times I did not love God and love others.
Forgive me, God.
I will try to act with love. I will try to do good.  
Thank you for Jesus, who died on the cross so our sins can be forgiven.
Thank you for Jesus, who rose from the dead on Easter.
Thank you to Jesus, for his love and mercy.
I love you, God.
Amen.
Let's Remember: Who can you show mercy to this week?
Words Every Catholic Should Know:
sin: Choosing to do something that you know is wrong. Sin harms and/or breaks our relationship with God and with others.
mercy: Forgiveness; care for others. The mercy of God has no limits.
Scripture for Children:
(Read this in a great children's Bible. For suggestions, see the Resources page.)
The Story of the Prodigal Son — Luke 15:11-32
For More Information:
Read the story of St. Faustina. Jesus appeared to her and told her of his unlimited mercy for all who turn to him. The following website is one place you can read her story.  https://www.ewtn.com/devotionals/mercy/stfaust.htm
One place to find information for children about St. Faustina:  https://www.catholic.org/saints/fun_facts_arch.php?saint=510
Show your children the image of the Divine Mercy that Jesus asked Sr. Faustina to have painted. You can find it here: https://www.thedivinemercy.org/message/devotions/image.php