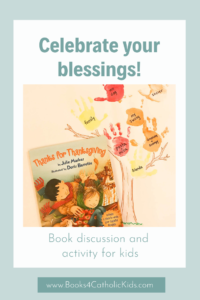 READ A BOOK
Thanks for Thanksgiving isn't a story of the Pilgrims' shared feast. It's a celebration of many things that inspire gratitude. It's also an opportunity– a colorful, fun way to remind our children that we have lots to be thankful for. This book doesn't tell us whom we should be thanking. That's up to us. I'm thankful for this beautiful book that gives us a chance to say thank you to God!
Markes, Julie, and Doris Barrette. Thanks for Thanksgiving. Harper Festival, an Imprint of Harper Collins Publishers, 2017.
You can find this book at your local library, independent book seller, OR purchase it from….
Thanks for Thanksgiving is also available as a board book.
MAKE A FAITH CONNECTION
What are some things the children in the book are thankful for?

Who do you think the children are thanking?

Some good things come from family members who love us and provide good things for us.

But all good things in our lives come from God to begin with. God made the world and God gives us life. We have everything we have because of God.

That is why we celebrate Thanksgiving. Long, long ago, the Pilgrims gave thanks to God for the good things in their lives. On Thanksgiving we give thanks to God for all the good things in our lives.

What are some things you are thankful for?

What are some of the most important good things in your life?

How can you say thank you to God?

How can our family (or class) say thank you to God?

It is important to say thank you to God. It is also important to say thank you to the people who take care of us, do nice things for us, and generously give to us.

To whom would you like to say thank you?

How can you say thank you to those people?

Thanksgiving is just one day out of the year.

Do you think that's enough time to say thank you? Why or why not?

How can we give thanks throughout the year?
HAVE SOME FUN
Make a Thanksgiving Blessings Tree
Materials Needed: brown or white paper to make a tree trunk you can put on a wall, colored paper to make leaves or handprints to use as leaves; markers to write or draw the things for which you are thankful.
A creative, Christian, homeschooling mom named Amy made this cute Blessings Tree and it is the perfect Thanksgiving project. You can make the trunk out of brown paper as Amy did. I've found that white paper works too. Cut the paper to make the trunk that you attach to a wall. If you use white paper, draw lines on it here and there with black marker to make it look like a birch tree trunk. Amy made her "leaves" with her kids' handprints which makes this project a treasured keepsake. You could cut out leaf shapes from colored paper if you prefer. That may be easier if you can't get your toddler to keep her hand still long enough to trace. I've also included a link to a leaf reproducible for your convenience. Each child and adult writes the things he or she is thankful for on the leaves or handprints and they are put up on the tree. Guests can fill out their own leaves, too.
Hint: When it is time to remove the Blessings Tree from the wall, take a picture of it. That's a great way to store the memory of a meaningful Thanksgiving.
Alternative Activity
Play I Spy Thankfulness!, an activity from the book lesson for Before You Sleep: A Bedtime Book of Gratitude.
This game can be played inside or outside, anywhere and whenever you like. In fact, playing often and in different environments will help develop the "gratitude muscles" of everyone in your family.

Person 1 says, "I spy something red that I am thankful for."

Person 2 tries to guess what it is.

When she guesses correctly, Person 1 tells why he is grateful for it.

Then Person 2 becomes the "Spy."

You can also play using the other four senses. For example, "I smell something sweet that I am thankful for." Or, "I hear something loud that I am thankful for."
Links mentioned and used above–
Blessing tree instructions: https://www.raisingarrows.net/blessing-tree/#_a5y_p=1026892 
Leaf printable: https://www.firstpalette.com/printable/leaf.html
Lesson in which "I Spy Thankfulness!" first appeared:  http://books4catholickids.com/a-lesson-in-gratitude
SHARE A PRAYER
Dear God,
When I say "thank you"
I know just who I am talking to.
I'm thanking you!
All good gifts come from you
because you love us SO much.
You have given us everything good.
And you have given us your Son, Jesus.
I am thankful for
all the people I love; all the food I eat;
and the place I call home.
I am thankful for all the things I can do:
for walking and running, jumping and sitting,
for waking and sleeping, reading and talking.
I am thankful that you made me, me.
And most of all, Lord,
I am thankful that you are you,
because your love
is bigger than anything else.
Your love
is meant to share.
Help me to share your love.
I ask your blessing
for those who are in need
of food, or shelter, or someone to love.
Bless those who are sick or suffering.
May they know the goodness of your love
and the care of others.
Thank you, God!Amen.
EXPLORE SOME MORE
Thoughts
People are always saying that gratitude makes us happier. It does, indeed. Social media is full of advice for keeping gratitude journals and being aware of a certain number of things that we are grateful for each day. This is all good, of course. But there's more to the story. It's not just about what we are grateful for. It's also about the WHO. To whom are we grateful? As Christians we know that God is the source of all good things. God is the source of our very breath. So we are grateful to God. We know exactly who is the source of our blessings.
Honest thankfulness comes with a dose of humility. God is God and I am not. If it wasn't for God, I wouldn't have all these wonderful blessings, no matter how hard I tried. God is so good.
Honest thankfulness also comes with the realization that there are those who do not have what I have. There are many people who are hungry and thirsty, who are lonely, who are without safe shelter. Being grateful for our blessings goes hand in hand with sharing those blessings with those who are less fortunate. This is an important lesson for our children to learn. Is the "poor" just an abstract idea for our kids? How can we help them know and serve those who go without the blessings we sometimes take for granted? 
Word Every Catholic Should Know
Psalms — The name of the Old Testament book of the Bible that contains 150 prayers. Most of the psalm prayers were written to be sung. It is believed that King David, a beloved king of the Jewish people, wrote most of the psalms. Many of the psalms are prayers of thanksgiving. We sing (or say) a psalm at every Mass, right after the First Reading.
 Relevant Scripture
The book of Psalms has many prayers of thanksgiving. Here are some favorites for sharing:
Psalm 107: 8-9
Psalm 95:2-3
And from another Old Testament book: 1 Chronicles 16:34
"Give thanks to the Lord, for he is good; his love endures forever."
TALK-IT-UP (Use this question to spark family conversation this week, perhaps in the car or over dinner.)
What are you most thankful for today?