LET'S READ
W Is for Welcome by Brad Herzog.
This beautiful book stirs the melting pot that is the United States of America, just in time for the Fourth of July. It provides the perfect opportunity to explore the concept of God-given freedom: the ability to choose to do the right thing. We are carried along an alphabet path through the many contributions of our diverse people, with brief rhymes for younger children and informative sidebars for older children. It's a keeper!
     Herzog, Brad. W Is for Welcome: a Celebration of Americas Diversity. Sleeping Bear Press, 2018.
You can find this book at your local library, buy it at your local bookseller, or…
LET'S THINK
For us:  
Freedom. Diversity. Cultures. Heroes. These are alphabet words in this book and they are concepts that in many ways define our country. They are also concepts that are important to Catholics and the faith we share. Our world-wide Church is made up of these things too, all kinds of different people, all over the world, coming to know Jesus in our worship, service, and community. Every single minute, Mass is being said somewhere in the world. There's unity in our diversity.
Like our country, our Church rests on freedom, the idea that every individual has the right to make choices. We believe that freedom is a God-given right. Our God, who is all powerful, could choose to control us instead of giving us free will. We have the choice to believe or not believe. We have the choice to worship God or to worship other people, things, or even ourselves. Both our God and our country give us freedom. It is what we do with that freedom that makes all the difference in the world.
Freedom is not the ability to do anything we want. That's because some choices do good and some choices cause harm. Freedom is the ability to do the right thing. With the freedom to choose comes the responsibility to do good and to take responsibility for the consequences of our actions.
It is true that not all Americans have used their freedom well. Celebrating the good does not minimize the bad. Everyone makes bad choices. Many people who have done great things in and for our country have also done things that are very sinful. Occasionally, those bad choices add up to real evil. Thankfully, there have been an abundance of people in America who have used their free will to do good things, to protect the freedom and rights of others.
This book celebrates exactly that. What wonderful things happen when people choose well! When a lot of different people from many different places, in many different times, come together in this land and use their freedom for good – we have diversity – but unity in that diversity. We have knowledge and innovation and accomplishment and creativity and service and voices – many voices, singing God Bless America. For the God who created us free has blessed us indeed.
For our children:
When we celebrate the Fourth of July, we are celebrating America's freedom. In America, the people and those we elect, make decisions about how we will live and what our rules will be. In some countries people do not have the kind of freedom that we do in America. Freedom is something to celebrate.
Freedom comes from God first. God gives us the freedom to make choices about what we do and what we think. But some choices bring about good and some choices do not bring about good. We have freedom in order to choose to do the right thing.
America is made up of people from many different places. Our ancestors have come from all over the world. Many people have used their freedom to do good things in America. They made choices to use their talents and skills in ways that help others. This book tells us about many of them. We are blessed to live in the United States of America!
LET'S TALK  
The ancestors of Americans come from many different places. Where do your ancestors come from?

What is freedom? (The ability to choose do what is right and good.)

Pick out someone in the book who is making a choice to use their freedom for good. What did they do for America?

What is one way that you can use your freedom – and your talents – to do something good?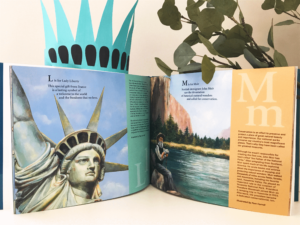 LET'S DO 
Make a Statue of Liberty Crown. It's perfect to wear to the fireworks!
Materials needed: printer, printer paper, blue or red construction paper (optional), marker, Scotch tape
Directions for making this crown with a printable template can be found at: Paging Supermom

By cutting out the template and tracing it on colored paper, you can make the crown red, white, or blue if you like.

We wrote "God Bless America!" across the band that goes on the back of the head.
Thank you to Bettijo at Paging Supermom for this craft and template! 
LET'S PRAY
Dear God,
Thank you
for giving me freedom.
Every day,
every minute,
I can choose to do good,
or to do something
that is not good.
Freedom is a great gift
and a great responsibility.
Help me to use my freedom for good,
just like so many people
in America have done.
Thank you for America,
the land of the free,
and the home of the brave.
Amen.
WORD EVERY CATHOLIC SHOULD KNOW  
free will:  the ability to make choices. Freedom comes with the responsibility to do the right thing. Freedom is a gift from God. If we do not use our freedom to do good, then we have sinned. Free will is one of the things that we have because we are made in the image and likeness of God.
SCRIPTURE
Galatians 5:13-14 "You, my brothers, were called to be free. But do not use your freedom to indulge the sinful nature; rather, serve one another in love. The entire law is summed up in a single command: "Love your neighbor as yourself."
LET'S REMEMBER
Use your freedom to do something kind this week.